|
IN DISCUSSION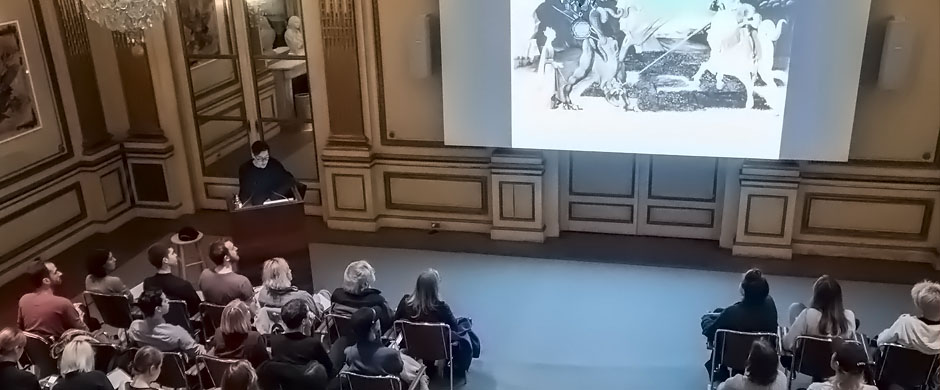 Public Programs
With the health and safety of our community in mind, the Institute's buildings will be open this spring only to students, faculty, and staff with classes held for students both remotely and in-person. We look forward to continuing a robust public programming schedule online, welcoming participants from around the globe. We encourage you to explore our virtual programming and archive of past lectures.
IFA Coronavirus Information and Resources 
The Institute: your destination for the past, present, and future of art.
Connect to the latest thinking about the arts from ancient times to tomorrow's prospects. Become part of the conversation, keep up with our events calendar (further down this page) and choose from our extensive range of lecture series, special lectures, panel discussions, workshops, and conferences. Enjoy our video archive to catch up with previous events. Some of our lectures are broadcast live.
The Ancient World

Conservation

Modern and Contemporary Art

Annual Lecture Series

Conferences and Workshops

Medieval to Early Modern

World Art
2021 Calendar
January

The events calendar is subject to change. Please check this webpage for updates.

February

The events calendar is subject to change. Please check this webpage for updates.

March

The events calendar is subject to change. Please check this webpage for updates.

April

Monday, April 12, 2021 at 6:00pm
Series: Pre-Columbian Society of New York
Speaker:

Andrew Finegold

, University of Illinois at Chicago
Title: Metonymy in Mesoamerican Art
LEARN MORE

about Andrew Finegold's talk

RSVP Required

for Andrew Finegold's talk

[opens in new window]

Description: In ancient Mesoamerica, images often directly responded to the forms, materials, or functions of their supports, or otherwise implicated their physical and social situatedness. In pointing to their contexts, such images can be understood as indexical according to the system of signs developed by Charles Sanders Peirce, but the close relationship between an image and its material conditions can also be classified as metonymical. Metonymy refers to expressions of contiguity or association; it is an additive form of expression, arising from adjacency in the same way that meaning is created grammatically through the combination of sequential terms in a phrase. In the elaboration of existing grounds with imagery deemed appropriate to them—and especially in the construction of teixiptlameh as embodiments of numinous forces—Mesoamerican artists regularly pursued an additive, associative practice of image making. This talk will argue that metonymy was more than a particularly favored representational trope in Mesoamerica, and that its consistent deployment can be directly linked to the ontology of images within an indigenous worldview.

Tuesday, April 13, 2021 at 6:00pm
Series: Judith Praska Distinguished Visiting Professor in Conservation and Technical Studies Lecture
Speaker:

Lynda Zycherman


Title: Fraternal Sextuplets: Technical Examination of Picasso's Glass(es) of Absinthe
LEARN MORE

about the Praska lecture

RSVP Required

for the Praska lecture

[opens in new window]

Description: Picasso's Glass of Absinthe (1914) is a series of six uniquely painted bronze sculptures. This presentation compares the different versions to discover similarities and differences in the edition. Close visual and instrumental examination revealed information about Picasso's sculpting method, collage techniques, technical information about the bronze casting, and damages and restorations. The six castings have a consistent and unique metal composition when compared to published alloy analyses of the foundries active in Paris at the time.

We have confirmed Picasso's use of found materials in conjunction with artist-made materials, revealed the hitherto hidden assembly technique of the three elements of the composition, and identified the paint medium and some of the pigments. These findings will be germane to scholars invested in the Glass of Absinthe series as well as those studying Picasso's use of polychrome technique.

Lynda Zycherman has served as Conservator of Sculpture at the Museum of Modern Art since 1984. Previously, she was an Associate Conservator at the Freer Technical Laboratory, Smithsonian Institution and worked in the laboratories of the Metropolitan Museum and the Corning Museum of Glass. She received a Bachelor of Arts degree in art history from City College of the City of New York, CUNY, and her M.A. in Art History together with the Certificate in Art Conservation from the Conservation Center of the Institute of Fine Arts.

Over the past 36 years at MoMA, Lynda has researched a wide variety of topics including Minimalist sculpture, sculpture utilizing electric lights, Fluxus, and Pop sculpture. Her current interest is the technical examination of sculpture by Picasso, Matisse and Brancusi.

The events calendar is subject to change. Please check this webpage for updates.

May

The events calendar is subject to change. Please check this webpage for updates.