|
ON DISPLAY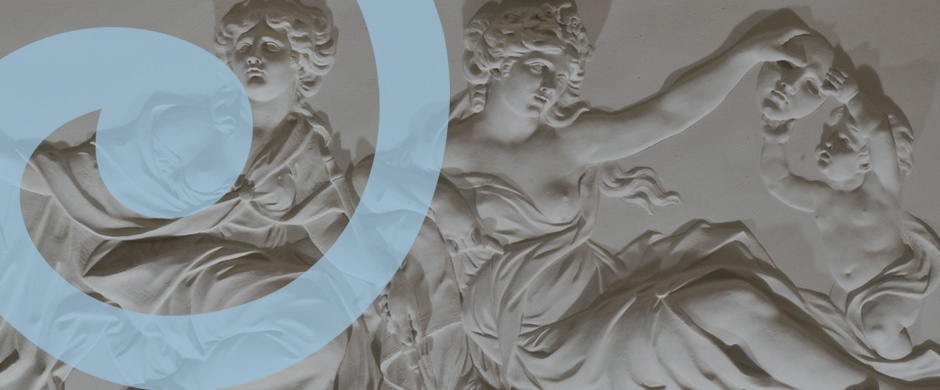 The Great Hall Exhibitions Archive
There are two Great Hall Exhibitions per year showcasing prominent contemporary artists. Taking place in the fall and spring semesters, the expansive great hall of the Duke House, a historic landmark building, provides an impressive setting for displaying seminal contemporary art in the center of the Institute's academic home and community.
Spring 2017:
Lucy Kim, 
Rejuvenate and Repeat
April 11 - mid-September 2017

The Institute of Fine Arts at New York University will open its doors to Rejuvenate and Repeat, a newly commissioned project by sculptor and painter, Lucy Kim. Rejuvenate and Repeat is part of an ambitious series of solo shows dedicated to women artists and is hosted in the Great Hall of the Institute's historic Duke House.  Accompanying Kim's exhibition will be a series of free public programs with notable thinkers from New York's art community and beyond.
Kim's exhibition reflects on the importance of self-preservation at a time of uncertainty. Rejuvenate and Repeat features a monumental, twenty-foot painted sculpture that draws inspiration from the history and space of the Duke House. The massive site-specific work plunges downward through the main stairwell of the Institute's Great Hall. The sculpture consists of bird and corn motifs in low relief, playing off beaux-arts bas-reliefs of foliage and draped figures in plaster, wood, and wrought iron that decorate and populate the mansion.
Doris Duke, the tobacco heiress and philanthropist who was once considered one of the richest women in America, gave the Duke House to the Institute in 1958. With no heirs, Duke left her fortune to the charitable foundation in her name in order to continue her legacy of supporting the arts, wildlife and environmental conservation, child well-being, and medical research. It is against this backdrop of Duke's life and legacy that Kim's work blurs the lines between abstraction and mimesis, painting and sculpture, image and object, and beauty and ugliness. Her process involves casting an object into plastic after creating analogue distortions in the molding process, and finally painting the object. What results is a monumental "image-form" that is at once imposing, tender, handcrafted, composited, imitative, and obscure.
Kim (b. 1978, Seoul, South Korea) received her BFA from the Rhode Island School of Design in 2001 and her MFA from the Yale School of Art in 2007. She has been a fellow at the Yale Norfolk Summer Program, MacDowell Colony, and the Skowhegan Artist Residency. She is the recipient of the Carol Schlosberg Memorial Prize, the Boston Artadia Award, and the ICA Boston's James and Audrey Foster Prize. Her work is included in the collection of the Kadist Foundation in Paris, among others. In 2017, she will also have solo exhibitions at Galerie Pact, Paris and at the ICA, Boston.
The exhibition was made possible through the generous support of Valeria Napoleone XX. It was curated by Adam Dunlavy, Connor Hamm, Sarah Mallory, and Blanca Serrano
Public Programming
April 17, 2017 - Legacy of the Natural, a panel discussion
Pivoting around the figure and legacy of Doris Duke, who with her mother Nanaline, presented the Institute of Fine Arts with the James B. Duke House in 1958, artist Lucy Kim, writer and critic Dawn Chan, and writer and science policy expert Bina Venkataraman, will engage in a conversation about the psychological impact of the rapid shifts in technology, including how science developments affect our environment, and how our visual and haptic perception evolves accordingly. Moderated by student co-curator and MA Candidate, Connor Hamm.

About the panelists
Dawn Chan is a journalist and critic who has written for the NewYorker.com, the New York Times, Artforum, and Bookforum.com. Dawn has a background in cognitive science and artificial intelligence, and her current work focuses on the intersections of visual art, culture, and technology.

Lucy Kim is a visual artist and the recipient of the 2017 James and Audrey Foster Prize for which a new body of work is currently on view at the Institute of Contemporary Art, Boston. She received her MFA in Painting from the Yale School of Art and her BFA in Painting from RISD. Her work has been exhibited at Lisa Cooley, NY, Brooklyn Academy of Music, OyG Projects, NY, and MonChéri, Brussels amongst others. She has an upcoming solo exhibition at Galerie Pact in Paris and she is the Senior Visiting Critic at Brandeis University.

Bina Venkataraman is a writer and a fellow at New America whose work lies at the intersection of science and social & environmental change. She formerly served as senior advisor for climate change innovation in the Obama White House, and she now teaches in MIT's department of science, technology and society. She was previously a science journalist for The New York Times and The Boston Globe. 
Events
Video
Contact the Institute
Building Hours
Contact Information