|
IN DISCUSSION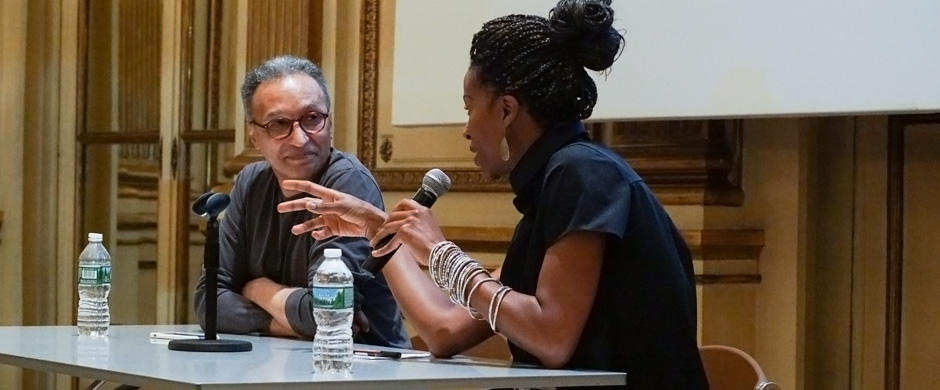 Artists in Conversation
Please check the events calendar for upcoming talks in this series.
Archive
Freedom As Form: Gavin Jantjes and Nandipha Mntambo in Conversation
Co-Presented by the Institute of Fine Arts and Performa Institute
Thursday, September 15, 2016
6:00-7:30pm in the Lecture Hall
The Institute of Fine Arts, New York University
1 East 78th Street
This event was broadcast live. Watch the video online.

This event is co-presented with Performa Institute and is affiliated with the Institute's 2016 workshop series, "Crossing Boundaries: Making World Art History." Additional support from the NYU History Department, NYU Africana Studies program, Department of Social and Cultural Analysis, NYU Department of Art History, Department of Photography and Imaging at Tisch School of the Arts, and NYU Center for Multicultural Education and Programs.
This dynamic event brings together Nandipha Mntambo and Gavin Jantjes, two internationally renowned South African artists, for a discussion on art and their respective diverse engagements with the nation's culture, society and history. Mntambo and Jantjes represent different artistic generations in South Africa, spanning the apartheid years and the post-apartheid present. Contextualizing their unique insights into transitions in art and culture within and outside of the country, this discussion marks the 40th anniversary of the Soweto Uprising, a turning point in the struggle against apartheid. This moment of protest awakened the international community to the indignities of the apartheid state and inspired artistic responses by a range of South African cultural workers. Since the 1990s, the tenor of South African contemporary art has shifted to include both socially-engaged projects that have their roots in resistance art of the 1970s and 1980s, and a wider range of concerns untethered to the nation's political history, from formalist experiments to invocations of global culture.
Gavin Jantjes (b. 1948) and Nandipha Mntambo (b. 1982) are graduates of the University of Cape Town's Michaelis School of Fine Arts. Gavin Jantjes went on to the Höchschule für Bildende Kunst in Hamburg, Germany in 1970. His screenprints and paintings of that period offer pointed critiques of apartheid and colonialism and draw from a rich iconography mined from African and diasporic visual cultures. He moved his studio to England in the early 1980s and then to Oslo, Norway in 1998, where he is currently based. In his writing, curatorial practice and arts advocacy, he has challenged the marginal place of African artists in the history of art and has been at the forefront of dialogues about internationalism, diaspora and artistic identity in global contexts. He is the author of Visual Century, a four-part volume history of contemporary South African art. Nandipha Mntambo was born in Swaziland but lives and works in South Africa. She graduated from Michaelis with an MFA in 2007. She has forged her own career in a post-apartheid South Africa, winning the Standard Bank Young Artist Award in 2011. Mntambo is renowned for her video works and photographs and her innovative use of cowhide in sculpture. Her disruption of binaries between human and animal, or masculine and feminine aesthetics, translates across the varied mediums in which she works. Casting the human body in cured animal hide, Mntambo demonstrates a sensitive and unique engagement with materiality and form, while challenging gender stereotypes, notions of sexuality and femininity in both African and Western cultures. Her work is currently on view in "Disguise: Masks and Global African Art" at the Brooklyn Museum.
This event is organized by The Institute of Fine Arts Ph.D. candidate Allison Young and NYU Africana Studies / Museum Studies M.A. graduate Ja'nell Ajani.
Events
Video
Contact the Institute
Building Hours
Contact Information