|
Art History
Conservation
Archaeology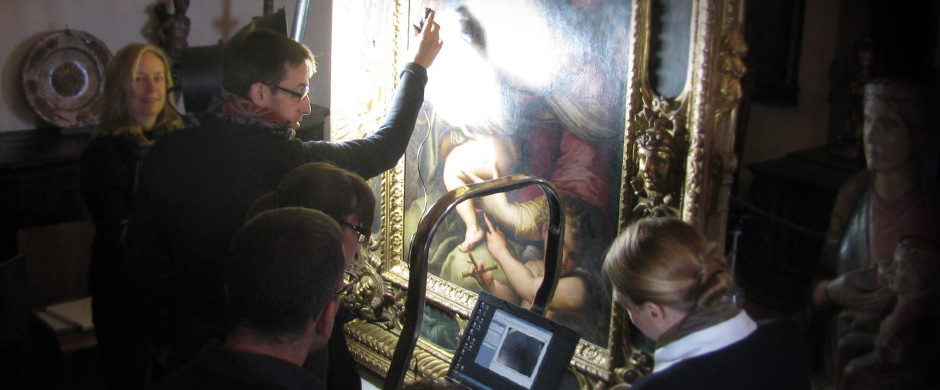 Global Study and Research Opportunities
As part of their graduate-level research, the Institute's students travel to study works of art and monuments first-hand, and to research in archives and libraries internationally. Occasionally, the Institute's courses are conducted abroad, in whole or in part. A recent example is Professor Marvin Trachtenberg's summer course, "Reading Florence and Tuscan Architecture and Urbanism."
Dissertation Research Travel
Dissertation-level students regularly undertake research travel for which, in many cases, the Institute awards financial support as part of a student's fellowship award. Institute of Fine Arts students also successfully compete for travel awards from national and international sources that underwrite research in art history, archaeology, and conservation.
Summer Dissertation Writing Program: NYU Berlin, Florence and London
This program is designed to support doctoral students in the final stages of dissertation writing by providing a framework for supported intensive writing over a six week-long period. While it is not expected that there will be a connection between the location of the workshop and the dissertation topics, participants whose work would benefit from being in a specific location should note this on the application form.
Shelby White and Leon Levy Travel Grant Program
All Institute of Fine Arts M.A. students receive a Shelby White and Leon Levy Travel Grant after completing certain academic requirements. While temporarily suspended due to travel restrictions brought on by the COVID-19 pandemic, this program traditionally offers a travel grant at the end of the first year of study to every M.A. student who is eligible. Each student creates her or his own itinerary to see works of art and architecture in the original.
Archaeological Excavations
The Institute of Fine Arts has a long history of sponsoring archaeological excavations, and students regularly participate in on-site archaeological projects. The Institute currently sponsors excavations at the Temple of Sanam in northern Sudan, Aphrodisias in Turkey, at Samothrace in Greece, at Selinunte in Italy, and at Abydos in Egypt.
Conservation Training and Research
Conservation Center students are able to complete practical training and internships internationally. Students regularly participate in advanced training and treatment projects at NYU's Villa La Pietra and at archaeological excavations sponsored by the Institute and others. There are also numerous opportunities to complete summer and fourth-year internships globally.
Contact the Institute
Building Hours
Contact Information
If you wish to receive information on our upcoming events, please subscribe to our mailing list.